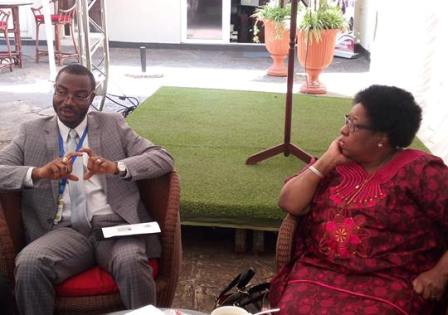 Nairobi, Kenya - Liberia's Finance and Development Planning Minister Boima S. Kamara is leading discussions on Liberia's Country Program for the African Peer Review Mechanism (APRM) at the 25th APRM Summit in Nairobi, Kenya.
A dispatched from the Kenyan capital says the Liberian delegation on August 25, 2016 held a very important technical meeting of the APRM on the sideline of the Summit to discuss the revised road map for Liberia's program and its implementation at national and sub-national levels.
During the meeting, Mr. Ferdinand Katendeko of the APRM Continental Secretariat walked the Liberian delegation through the ARPM revised road map for the country. The Lead Panel Member, Brigitte Sylvia Mabandla who attended the meeting requested the Secretariat to make the presentation.
The Road map was endorsed following critical reviews, discussions and inputs on activities and timelines of the revised road map by the technical team.
The lead Panelist Mabandla thanked the Liberian delegation for honoring the technical meeting. Liberia's APRM Focal Point Hon. Boima Kamara reaffirmed on behalf of President Ellen Johnson Sirleaf of Liberia's unwavering commitment to be reviewed in 2017.