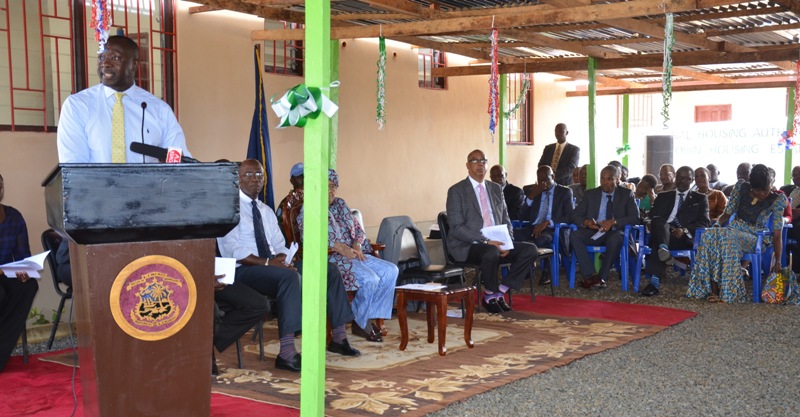 Liberia's Finance and Development Planning Minister Amara Konneh is urging critics of the government to provide the various tangibles that they believed have cumulated into the basis for which they are saying that the Ellen Johnson Sirleaf led government has not achieved anything since its inception.
According to a Ministry of Finance and Development Planning (MFDP) release, Minister Konneh is calling on critics to compare the condition of several roads, bridges and other infrastructure development constructed by the current leadership to previous governments.
Just to name few, Minister Konneh listed the Monrovia - Marshall - Roberts Field freeway, the Monrovia- Buchanan and the Red-light to Ganta highways, as well as the King Zulu Duma Bridge linking the City of Monrovia to the commercial district of Bushrod Island and newly constructed Caldwell Road and Bridge.
Minister Konneh threw out the challenge Tuesday September 8, 2015, when he delivered a special statement during the dedication of phase one project of Fifty Two Low-Cost Housing Estate Units in Marshall, Ben Town Lower Margibi County.
Minister Konneh maintained, "For this government, we do not take money and give to people directly. We invest in public goods so that the public can use it. We invest in programs that will have ripple effect for economic expansion."
"There are others who are saying that the investments we are making are not trickling down to the people, come and see these units. These housing units are for Liberians, they are not for foreigners. They are for Liberians who are at the lowest of the income bracket that their government is given them the opportunity to have decent homes." He noted.
The MFDP's Minister reaffirmed government's commitment for the promotion of freedom of expression, openness and good governance throughout the country.
"Since 2006, this administration has never thrown anybody in jail from keeping them quiet for criticizing the government, for insulting the president, or sometimes her family and sometimes insulting the ministers by calling them rouges, thieves for which nobody can say I went to jail for that – these are the prices for democracy and freedom," Minister Konneh continued.
He further emphasized that "When this administration legacy is written few years from now by historians, they will say we did our best to reconstruct our country under very, very difficult circumstances… This is a country that had the largest economic collapse in the history of the world; 90 percent of collapse – I mean dropped in the hole. But the country is out of that hole now; it's on the surface and has putting on its sneakers and ready to run."
Minister Konneh further called on all Liberians to unite in the rebuilding of the state rather than criticizing the government and officials who have positioned their life to ensuring the country is rebuilt for the benefit of all Liberians.
"There are those who do not want this country to move forward and there are those who want this country to make progress. It's all about moving from one point to another. It depends now on us Liberians to determine how fast we want to move. No amount of criticisms, insults or lies on the radio can change that. The Americans, the Chinese, nobody will do it for us more then we could do for ourselves. So if we come together to work in the interest of our people, we can spend many more millions to change lives," Minister Konneh maintained.