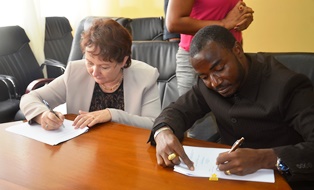 Monrovia,Liberia - The Minister of Finance and Development Planning, Honorable Boima S. Karama, has commended the World Bank for its continuous supports to Liberia's recovery program including the healthcare sector.
According to a Ministry of Finance and Development Planning (MFDP) press release, Minister Kamara made the remark on Wednesday, March 22, 2017, during the signing ceremony for US$16 million (sixteen million United States dollars) World Bank approved Global Financing Facility (GFF) for Liberia Health System Strengthen Project, that will seek to improve the quality of primary and secondary health care services, with focus on reproductive, maternal, newborn, child and adolescent health.
"On behalf of the President, Her Excellency, I just want to say thanks to the World Bank again for another demonstration of your support to our country; not only trying to build on a better micro-economy, but also the fabrics around which the economy functions, especially in the healthcare sector," Minister Kamara emphasized.
According to him, what goes towards the health system strengthening, especially in the areas of maternal mortality and neo-natal deaths is laudable; stressing, "We believe such an agreement at this point in time will make us more resilient and go to addressing what has been this perennial issue, especially for those in the rural parts of the country, because access to good healthcare must be for all, not for only the privileged people."
Minister Kamara assured the Bank that the fund is going to address a gap in the health system, mainly for those who are far away, from what he calls critical health centers.
The Finance and Development Planning Minister further said that the more Government gets people who are directly affected-women and girls-closer to healthcare delivery, the better it is in addressing the extent to which the country can reduce maternal mortality.
He pointed out that people will not die of things that they have been dying of because the government, in collaboration its partners, including the World Bank, is now putting into place a system that will be to improve on quality healthcare delivery.
Minister Kamara also reaffirmed Liberia's commitment to remain a partner to the Bank. "We want to say we appreciate this; we still remain your partner and we will remain fully engaged with the World Bank," he concluded.
For her part, World Bank Country Manager to Liberia Larisa Leschenko assured the Liberian Government that the World Bank will continue to support its programs prioritizes in its medium-term Development Agenda, the Agenda for Transformation in lifting its people out of poverty.
She said she was exceptionally delighted on behalf of the World Bank family to participate in the signing of Liberia health Systems Strengthening Project Additional Financing which will seek to improve the quality of primary and secondary health care services, which a focus on reproductive, maternal, newborn, child and adolescent health.
'' Let's move ahead with diligence and Implement this project aimed at Strengthening Health Care Delivery Services and help transform Liberia''. She maintained.
She indicated that the grant will address six priority investment areas in essential health services and health system bottlenecks. The investment areas include quality Emergency Obstetric and Newborn Care including antenatal and postnatal care and child health; strengthening the civil registration and vital statistic system; adolescent health interventions; maternal and neonatal deaths surveillance and respond; sustainable community engagement; leadership, governance and management at all level.
The project approach will cover a community base approach, involving training and deployment of Community health Assistants to provide a comprehensive package of preventive, promotive and curative services at the household level for populations residing more than five km from their nearest health facility.
The World Bank Liberia Country Manager also disclosed that during implementing the project, team members will also carry out community event based surveillance to prevent and respond quickly to disease outbreaks.
"The Health Systems Strengthening Project Additional Financing will ensure the deployment of performance base financing to counties and primary health facilities based on the quantity and quality of essentials health services provided." She declared.