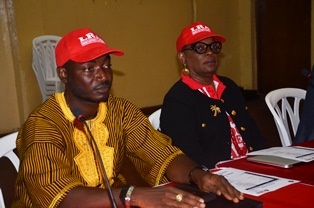 Monrovia-Liberia - The Liberia Revenue Authority (LRA) in collaboration with the Ministry of Finance and Development Planning (MFDP) has launched for the first time, Real Estate Community Partnership Mobilization Project which ultimate goal is to increase lawful revenue largely for volunteer's compliance and to help ensure fair share payment through a nationwide grassroots' community engagement.

According to a MFDP release, Finance and Development Planning Minister Boima Kamara speaking at the launch held at the Monrovia City Hall yesterday, specified that domestic resource mobilization is an essential component of sustainable economic development for Liberia.
Minister Kamara said the LRA and MFDP must initiate programs to boost revenue collection, engage in smart spending and shut down the door of corruption in public finances.
He noted that enhancing domestic resource mobilization in Liberia is not just necessary, but rather imperative to achieve sustainable Development Goals (SDGs) as well as to sustain economic and infrastructural development.
"It is a process that reinforces the postulation that governance is inherent in the people, and those people have an obligation to help formulate laws and policies that would improve their well-being," Minister Kamara declared.
Emphasizing, "there has to be a greater reliance on domestic resources were international development partners cannot foot our bills infinitely or do for us what we can do for ourselves. They too are subject to limitation of funds and a whole host of competing priorities.''
He said domestic resource mobilization is an excellent way to finding other viable and achievable mechanism to support and sustain national priorities.
Minister Kamara maintained that there is substantial potential for more revenue intake from the real estate sector which is one of the areas that has not been fully tapped. "The current tax roll of structures and land that are currently attracting taxes is unacceptable low. We must extent coverage so that more tax payers are brought into tax net." He declared.
He further indicated the compelling need for a robust block mapping exercise that will not be limited to Monrovia and it immediate environs, but a process that will cover the length and breadth of the country.
"The team at the Ministry of Finance and Development Planning stands ready to provide whatever support that is necessary and can be allowed within the confines of the budget to support the LRA in ensuring tax base relative to Real Estate is expanded." Minister Kamara assured the LRA team.
For her part, Commissioner General (CG) of the LRA, Mrs. Elfrieda Stewart Tamba indicated that the launching of the real estate community partnership mobilization project is a mile stone in the life of LRA
"The domestic mobilization project which starts today in Montserrado County will focus on real property tax base through reboots tax payer awareness and education outreach, stakeholder engagement which will include Jehovah witness engagement and community driven partnership." She added.
She said the face of the community project will cover seventeen electoral districts within Montserrado County including cities, twenty one townships and one burrow.
The program was attended by Montserrado County Legislative Caucus, Local Authorities, City Mayors, authorities from the MFDP and LRA as well as government officials and a cross section of of citizens from Montserrado County.