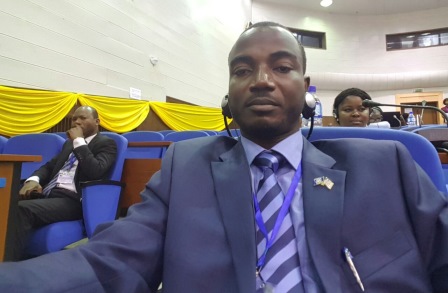 Cotonou, Benin – Liberia is to benefit from a total of $11 million (Eleven Million United States Dollars) amid government's commitment aimed at giving boost to the education and health sector.
Finance and Development Planning Minister, Hon. Boima S. Kamara is spearheading the pitch in Cotonou, Benin at the ongoing meeting of the African, Caribbean and Pacific (ACP) National and Regional Authorizing Officers and Senior Officials in charge of Development Financing of the West African Region held on January 18-19, 2017.
According to a dispatch from Cotonou, the meeting was attended by senior government officials, members of parliament, representatives of regional development banks and organizations, and civil society and private sector actors.
In his capacity as National Authorizing Officer (NAO) for Liberia, the Minister of Finance and Development Planning, Hon. Boima S. Kamara led the Liberian delegation to the ACP Meeting comprising Martus Williams Bangalu, the Deputy National Authorizing Officer; Hon. William Dakel; Member of the ACP Committee of the House of Representatives; and Frances Greaves, National Chairperson of the National Civil Society Council of Liberia.
Among other crucial issues discussed during the meeting were Exchanges on the Implementation on National and Regional Indicative Programs in the 11thEuropean Development Fund (EDF); a renewed European Union partnership with the countries of Africa, the Caribbean, and the Pacific; New European Consensus on Development; ACP Private Sector Development Strategy under the 11thEDF; and South-South and Triangular Cooperation Exchange of Experiences.
The dispatch noted that of importance to Minister Kamara's trip to Cotonou, was his bilateral sideline meeting with the European Union delegation from Brussels.
The members of the EU delegation that met with Minister Kamara and his Deputy NAO Ms. Bangalu were Klaus RUDISCHHAUSER, Deputy Director-General for International Cooperation and Development; Didier VERSE, Head of Unit Geography Coordination for West Africa; Zoltan Agai, Head of Sector Regional Program for West Africa; and Hans-Peter SCHADEK, Chief of Division for Africa.
The case for 11 million Euro budget support was made for this fiscal year and was overwhelmingly accepted by the EU Delegation conditioned on Government's fulfilling of series of indicators in public financial management, justice and security.
Furthermore, coming out of the meeting with the delegation from Brussels was that the Government will benefit during the next fiscal year from over 30 Million Euro as continuous support to the budget and an additional 12 Million Euro that will be channeled through the budget for targeted support to education.
Financing agreements for support to agriculture in the amount of 30 Million Euro and support to the General Auditing Commission (GAC) in the amount of 5 Million Euro have been signed and implementation to commence soon.