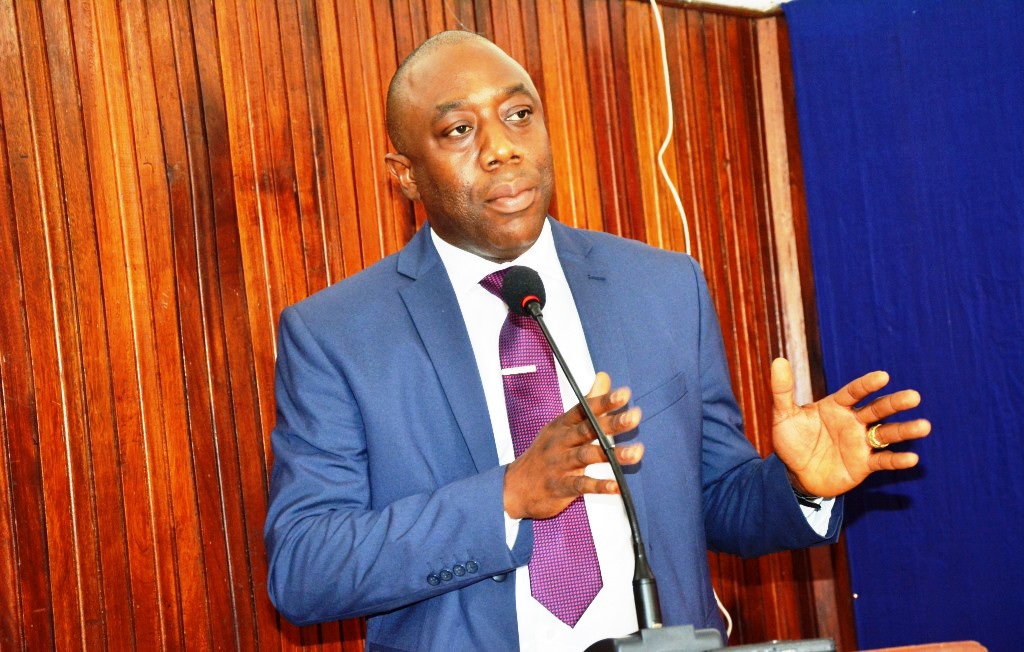 Monrovia, Liberia - The Ministry of Finance and Development Planning in collaboration with the Central Bank, and Ministry of Commerce and Industry on Tuesday, November 28, 2017 launched post-Ebola Reconstruction Project for Micro, Small and Medium businesses across the country under the theme "Access to Affordable Domestic Finance for MSMEs in Liberia". The event brought together business owners, government officials and development partners.Micro, Small & Medium Enterprises (MSMEs) are drivers of economic activities, innovation and employment in Liberia's economy. Hence, this loan scheme will be critical in promoting economic growth and development as well as enhancing the diversification of the economy particularly in rural areas. The MSMEs loan scheme is expected to create or sustain over 2000 jobs.
Speaking during the launch ceremony held at the Monrovia City Hall, the Deputy Minister for Economic Management at the Ministry of Finance Hon. Alvin E. Attah who subbed for Finance and Development Planning Minister Hon. Boima S. Kamara, said the launch was meant to provide information on Micro, Small, Medium and large enterprise finances secured from the World Bank.
"We did secure a grant of US$4.8 million from the World Bank and we are striving to make Micro, Small & Medium Enterprises (MSMEs) in Liberia with financing on sustainable terms", Hon. Addy indicated.
According to Hon. Attah, the objective of the launch was to bring together government, development partners, banking institutions and business owners, among others, with the hope that the launch will offer a forum for open discussions on challenges and opportunities in helping MSMEs to access affordable domestic financing.
He reaffirmed that the aim of Tuesday's launch was to strengthen capacity for the Liberia private sector, not just financial institutions and banks, but to enable them to become economically vibrant to drive the economy. It will also contribute to economic growth, including diversification of the economy, especially in rural areas.
"We hope that this project will not end up as previous projects, because we know that this project has the propensity to provide about five hundred new loans to MSMEs which could create more than two thousand jobs for Liberians". Says Hon. Attah
For her part, World Bank Liberia Country Manager Ms. Larisa Leschenko applauded the Government of Liberia for what she considered as a "prudent approach to addressing access to finance constraint in a sustainable manner." She added that the Micro, Small & Medium Enterprises (MSMEs) Project represents a clean break from unsustainable practices.
She emphasized that under this project funds will be allocated on market terms. The beneficiary financial institutions have been selected based on compliance with strict eligibility criteria on financial performance. The financial institutions will bear the credit risk for the funds received and accordingly, they will have to base their lending decisions on a strict credit assessment of the interested small businesses. Ms. Leschenko added that adequate monitoring mechanisms will be put in place to ensure that the funds reach their intended beneficiaries, the small businesses that are starved of capital. In this manner, the project can have a lasting impact on alleviating the credit constraint faced by Liberian businesses
She said, the Central Bank of Liberia and MFDP, the World Bank and other development partners' support are aggressively pursuing the objective of creating a well-functioning financial system that allocates savings for productive and job creating activities.

The World Bank Country Manager then congratulated the Government of Liberia for the efforts which she believes demonstrate its commitment to stimulating economic growth and jobs creation.
At the close of the launch, Commerce Minister Hon. Axel Addy, said over the last four years the Ministry has been committed to Micro, Small & Medium Enterprises (MSMEs) programs.
"When we create an enabling environment, they go from micro to small, from small to medium, and from medium to large; this is why over the last four years, officials at the MOC have committed to providing the requisite support to businesses in these categories," Hon. Addy concluded.
The Micro, Small & Medium Enterprises (MSMEs) loan project is financed by the World Bank State and Peace Building Fund for US$4.8 million, and aims to increase access to finance for MSMEs in a sustainable manner.