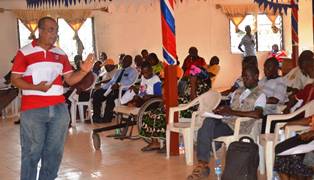 The Government of Liberia through the Ministry of Finance and Development Planning and Governance Commission with support from United Nations Development Programme (UNDP) is conducting nationwide national development planning regional consultations towards formulating the "Pro-Poor Agenda for Prosperity and Development" (PAPD).
In the Southeastern Region, regional consultations were held over a four-day period from May 2- 5 in River Gee and Maryland Counties, respectively, under the theme "Promoting a Participatory Development Planning Process''.
The purpose of the regional consultations is to promote citizens' participations in the development of the next five years National Development Medium Term Plan to succeed the Agenda for Transformation, the previous five years plan that expired in 2017. A cross section of participants was involved in the discussions on where they hope to see their counties and Liberia as a whole in the next five years.
Speaking during the consultations, the Assistant Director for Monitoring and Evaluations for Development Planning, James Afif Jaber, said that the National Development Planning Regional Consultations in the fifteen (15) counties of Liberia involve counties leaderships, legislative caucuses, traditional chiefs, youth groups, women groups, students, motor cyclists or pen-pen riders, the physically challenged, local judges and magistrates, market women, teachers, health workers, religious leaders, District Commissioners, Paramount Chiefs, Civil Society Organizations, the business communities, and line Ministries, Agencies and Commissions.
He disclosed that the consultations in the fifteen counties started on May 2 and will end on May 8, 2018 and added that the fifteen counties have been arranged into five regions with three counties in each region.
Hon. Jaber further said that the consultations across the country are inclusive and participatory and seek to obtain inputs in the formulation of pro-poor policies that will directly impact and lift the lives of citizens out of poverty and help reduce the disparities or inequalities among the people in terms of employment and income.
According to Mr. Jaber, ''the new administration is keen on developing the next five years National Development Medium Term Development Strategy that speaks to its Pro-poor Agenda".
He furthered that the Pro-poor National Development Agenda will focus on four pillars. He said, Pillar One will focus on education, health and sanitation, gender equality, youth reorientation and empowerment, and physically challenged; Pillar Two will deal with agriculture and forestry, while Pillar Three will focus on justice, human rights, reconciliation, security and national defense and veterans, and lastly, Pillar Four will deal with decentralization of institutions and systems, accountability and anti-corruption.