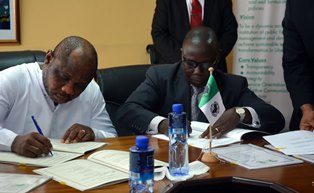 Monrovia, Liberia – The Minister of Finance and Development Planning, Hon. Samuel D. Tweah, Jr., on Wednesday, October 3, 2018 signed on behalf of the Government of Liberia the Loan and Grant Agreements with the AfDB totaling US $41.58 Million for the Second Phase of the Mano River Union Road Development and Transport Facilitation Programme which would improve roads connectivity in Liberia and facilitate transport between Liberia and its MRU neighbors as well as promote regional integration.
The Agreement signed in Monrovia is a continuation of the African Development Bank's support to the regional integration of the Mano River Member States (Liberia, Cote D'Ivoire, Sierra Leone and Guinea) as well as in support of the Government of Liberia's Pro-poor Agenda for Prosperity and Development.
According to the Agreement, the AfDB support is also intended to consolidate ongoing roads construction efforts by the government of Liberia and aimed at boosting economic recovery in the two countries.
Furthermore, the Agreement named the asphalting of 20km of road between Fish Town and Kelipo in River Gee County, and the asphalt pavement of the 47.1 km stretch of road between Sanniquellie and Loguatuo in Nimba County including the construction of two markets, water facilities, and latrines along these roads as specific projects under the programme.
Additional projects specified in the Agreements include the construction of a joint border control post and a bridge linking Côte d'Ivoire and Liberia which would reduce transport costs, ease the free movement of people and goods, promote regional trade and overall improve the living standards of about 790,000 people.
The project's execution is expected to create about 800 new jobs over the next 2-3 years as well as increase jobs prospects for ten young graduate technicians and engineers employed in training sites related to the programme.
With a total estimated cost of US $87.87 million, over 48% of the total cost of this second phase is covered by the African Development Bank while the rest will be co-financed by an EU grant and a loan from the European Investment Bank.
Speaking at the signing ceremony, Finance and Development Planning Minister Hon. Samuel D. Tweah, Jr. conveyed on behalf of President Weah government's most profound appreciations to the Bank for ongoing support and plans for further support to the Government in actualizing its development agenda.
Minister Tweah also used the occasion to convey President Weah's request to the Bank and other development partners to shorten the implementation circle especially in the execution of critical development projects.
Describing roads construction as "the centerpiece of the national development aspirations of the government", Minister Tweah said that the government of President Weah remains committed to improving the country's road infrastructure and therefore look up to the African Development Bank, the World Bank, and other partners to scale-up the financing for roads development in Liberia.