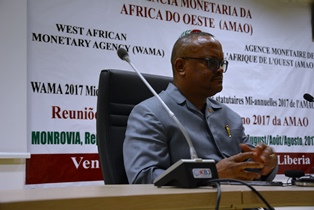 The Executive Governor of the Central Bank of Liberia (CBL), Mr. Milton Weeks says global commodity price shock and the impact of a devastating Ebola Virus Disease (EVD) are two major factors responsible for the dismal performance of the Liberian economy during 2016.
"During the period 2006-2013 the country recorded remarkable growth averaging about 8.0 percent annually. Inflation was persistently low in the single digit range and the exchange rate was relatively stable," the CBL Chief told delegates.
According to a Ministry of Finance and Development Planning (MFDP) release, Governor Weeks acknowledged that since that period in the country's history, economic activities have slowed down considerably when the country recorded a negative real Gross Domestic Product (GDP) growth in 2016 on the "backdrop of heightening macroeconomic instability."
"Unfortunately, the recent global commodity price shock and health crisis experienced in 2014-2015 derailed the country's favorable microeconomic prospects." Weeks, an economist and banker again told delegates in attendance.
He made the observations Thursday, July 27, 2017 in his welcome statement to delegates during the opening ceremony of the thirty-first Joint Ordinary meeting of the ECOWAS Economic & Monetary Affairs Committee and the Operations and Administrative Committee in the auditorium of the Central Bank of Liberia, in Monrovia.
"As in most other countries, managing the fiscal position was quite challenging with attempts aimed at sustaining social expenditure, minimizing the infrastructure gap and putting the economy back on an even keel," Weeks told delegates.
He said during the period the country was consistently on track with the macroeconomic convergence programme, "complying with at least, three of the primary and secondary criteria," as steps taken to conform to institutional arrangements, consistent with ECOWAS monetary cooperation programme.
Mr. Weeks said in spite of the numerous microeconomic challenges, "Liberia has progressed steadily in compliance with the protocols in discharge of its commitments under the ECOWAS Monetary Cooperation Programme. I am happy to report that Liberia continued to transact business under the ETLS.
He also indicated that, Liberia, despite the setback, has also acceded to the ECOWAS protocol relating to CET intending to roll out its implementation few months from now adding that "Liberia is also on the path of aligning the fiscal calendar, which currently runs from July-June to conform to other ECOWAS member States.
"Our payment systems have undergone significant improvement in recent years," Weeks said adding that the CBL is working with relevant stakeholders to "Address our dual currency regime, in line with ongoing discussions related to the harmonization of monetary policy frameworks in the region," Governor Weeks declared.