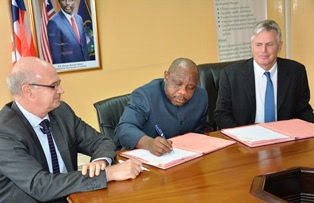 Monrovia, Liberia - The Minister of Finance and Development Planning Hon. Samuel D. Tweah, Jr. on behalf of the Government of Liberia and the French Ambassador Terrence Wills along with the Director of the French Development Agency Bruno Leclerc both representing the French government have signed a 5 million Euros financing agreement that will provide budget support to Liberia.
This grant agreement follows the visit of President George M. Weah to France in February of this year. During the visit, President Weah and President Macron discussed enhancing bilateral relations particularly in development cooperation and areas of trade.
Speaking during the signing ceremony at the Finance Ministry on Tuesday, July 24, the French Ambassador described the February's visit of President Weah to Paris which has led to the signing of the financing agreement as a successful one.
Ambassador Wills also disclosed that as part of the French government's commitment made to President Weah, the French Development Agency will furthermore extend in the coming months its support to youth employment through a 5 million Euros grant by the end of this year and an additional 5 million Euros in 2019.
He lauded what he described as a very good collaboration between the French Development Agency and the Ministry of Finance and Development Planning which fast-tracked the process thereby enabling the signing of the agreement only in five months after President Weah's visit to France.
The French Ambassador then disclosed that also arising out of the discussions between President Weah and President Macron during the visit earlier this year was that Liberia will be considered a "priority partner" as the French government was committed to supporting Liberia's development efforts.
For his part, Finance and Development Planning Minister Hon. Samuel D. Tweah, Jr. conveyed on behalf of President Weah profound gratitude to the President Macron and the French government for the grant and assurance of increased support while also describing France as an important player in global affairs.
Minister Tweah thanked the French Ambassador for acknowledging that Liberia was faced with enormous macroeconomic challenges owing to several factors including the lack of diversification in the economy which has heightened under the collapse of commodity prices. He however assured that the government of President Weah was very determined to address these issues by diversifying the economy and strengthening the private sector as the ultimate engine of productivity and job creation.
He said that while government is moving arduously to address the private sector transformation, the budget support by the French and other partners provide much needed short-term critical interventions to make up for the shortfalls in the macroeconomy.