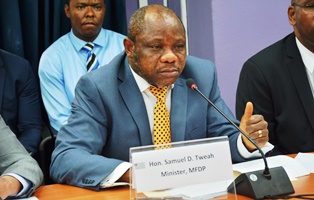 Monrovia, Liberia - Finance and Development Planning Minister, Hon. Samuel D. Tweah, has identified youth development, education, health, private sector development and technical support to domestic revenue generation, as key priorities of the new government, in its short-term delivery plans.
Speaking during a meeting with United Nations, and development partners on Tuesday February 19,2018, the Ministry of Finance and Development Planning boss assured partners that the Government of Liberia is committed to working with them in implementing the pro-poor agenda for ordinary Liberians.
Minister Tweah expressed government's commitment to mobilize domestic resources, effect transparent budget execution, and reduce wasteful spending.
The treasury boss also called on development partners to align their interventions to government's agenda, to speed up pro-poor transformation in Liberia. He said the alignment of interventions will improve partnership and promote coordination, the impact of which will be felt in the counties. He also stressed the need for GoL and development partners to jointly formulate a "framework matrix modalities''.
Minister Tweah pledged government's support to continue fiscal decentralization and thanked development partners for the tremendous support over the years and called on partners to help transform Liberia for the ordinary people to be happy.
For his part, the Deputy Special Representative of the Secretary-General and UN Resident Coordinator, Hon. Yacoub EL Hillo, expressed the partners' commitment in working with Government to promote the pro-poor agenda. "We need to determine and suggest action, decision or intervention for the quick win agenda over the next few months", the DSRSG said.
According to DSRSG, the overall goal of development partners and UN agencies is to promote the pro-poor development agenda that will impact the lives of the f Liberian people.