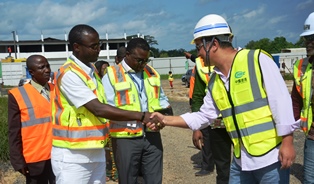 The Minister of Finance and Development Planning, Hon. Boima S. Kamara along with other senior officials of the Ministry yesterday toured the ongoing upgrade and expansion work at the Roberts International Airport. The upgrade and expansion work covers the rebuilding of the New Terminal, the Rehabilitation of the Runway, Road Station, Parking lots, Sewage Treatment System, Electricity systems and other major key components at the Airport.
He also praised the courageous leadership of the President of Liberia, Her Excellency Ellen Johnson Sirleaf, who braved the storm in ensuring that the rebuilding of the airport becomes a reality.
During the tour, the Treasury boss, Mr. Kamara lauded the head of the China Harbour Company, the Sinohyro Construction Company, the Management of the Roberts International Airport headed by Mr. Wil Bako Freeman and its staffs, for the tremendous efforts and level of work done so far since the commencement of the project.
Commending the "one team approach" being used, the Finance Minister said, "we want to say the horizon is bright and we now see a beam of hope; we shall all be well, God shall keep us to see this dream come through, we shall live it, experience it and be a part of it when the final completion work is done and be dedicated".
The project when completed will indeed be a major boost to Liberia's economic development.
Also speaking, the Head of the China Harbour Contractors, indicated that more than 125 Liberians (four of which are engineers trained at the Tubman University in Maryland County) were hired to join others contractors from China to work as a team in order to deliver the task be given by the Government of Liberia.