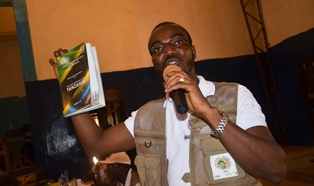 The Minister of Finance and Development Planning, Hon. Boima Kamara has reaffirmed government's unwavering support to the African Peer Review Mechanism in Liberia. He said government will also continue to support the National Sensitization and Outreach Campaign of the APRM throughout the country.
Addressing stakeholders at the formal launch of the national sensitization and outreach campaign in Ganta, Nimba County on Thursday, Minister Kamara called on stakeholders to participate in the awareness of the African Peer Review Mechanism in Liberia, as it is their way of writing their own Country Self-Assessment Report.

Minister Kamara urged Liberians to actively engage in the awareness process to provide an opportunity in which they would have a in the social, political, economic affairs of their country. He maintained Liberia is the only space "we have, so let us continue to work together to improve our Country...be the change we all want Liberia to be."

The APRM National Focal Point for Liberia Minister Kamara emphasized that the APRM is an African initiative that should be owned and supported by all Africans as Africa's flag-ship for good governance. The sensitization campaign is a process aimed at educating citizens about the APRM as "Africa's Self-assessment for good governance and the need for citizens to participate and be supportive of the APRM at the continental, regional, sub-regional and national levels.
Officials of the APRM Continental Secretariat, alongside the APRM Communications and Technical Research Institutes (TRI's), officially launched the Outreach Campaign on October 19 & 20, 2016 sponsored by United Nations Economic Commission for Africa (ECA).
The Sensitization and Outreach Campaign will be rolled out in all of Liberia's 15 counties and is being done in phases with the first phase targeting five counties including Kakata City, Margibi County, Gbarnga City, Bong County, Ganta City, Nimba County, Buchannan City, Grand Bassa County and Cestos City, Rivercess County. In January 2017, the Campaign will extend to Eastern, Western and Northern Liberia. APRM National Sensitization and Outreach Campaign is the center of attraction and the focus of discussion in all quarters of the counties where the campaign is currently been launched.