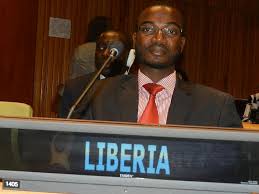 Monrovia, Liberia – Thursday, January 26, 2017: At a head of a high-powered Liberian delegation, Finance and Development Planning Minister, Hon. Boima S. Kamara left the country on Wednesday to attend the 26th APRM Summit Meetings in Addis Ababa, Ethiopia.
According to a Ministry of Finance and Development Planning Press Release, the summit will also feature discussions, briefings, signing ceremonies, presentations of certificates, Nomination and Appointments of New Members of the African Peer Review (APR) Panel of Eminent persons, as well as other side events that would focus on the APRM Administrative and Financial issues and Update on Panel Matters.
The Press Release noted that the objective of this year forum is to discuss the Reviewed Reports for Djibouti, Chad, Senegal and Sudan along with the first-ever APRM Second Review, for Kenya, with Namibia scheduled to voluntarily accede at this Summit. It is further expected that the Forum will announce new Members of the Panel of Eminent Persons.
The African Peer Review Summit is convened bi-annually on the margins of the African Union (AU) Summit to discuss APRM-related matters. Heads of States and Government including H.E Uhuru Kenyatta, President of the Republic of Kenya and Chairperson of the African Peer Review (APR) Forum; Dr. Mustapha Mekideche, Chairperson of the APR Panel of Eminent Persons and Prof. Eddy Maloka, CEO APRM Secretariat will preside over the proceedings.
Liberia's APRM National Sensitization and Outreach Campaign was official launched on October 19 and 20, 2016 by Officials of the APR Continental Secretariat alongside APRM Communications and Technical Research Institutes (TRI's) sponsored by United Nations Economic Commission for Africa (ECA). The Sensitization and Outreach Campaign will be rolled out in all of Liberia's 15 Counties and is being done in phases. The First Phase has targeted five counties and their capitals including: Kakata City, Margibi County, Gbarnga City, Bong County, Ganta City, Nimba County, Buchanan City, Grand Bassa County and Cestos City, Rivercess County.
In January 2017, the Campaign will be extended to the Eastern, Western and Northern Liberia. APRM National Sensitization and Outreach Campaign are the center of attraction and the focus of discussion in all quarters of the counties where the campaign has already been launched.
As Liberia makes progress in critical areas leading to its Review in June of this year, the APRM National Focal Point, Hon. Boima S. Kamara, Minister of Finance and Development Planning - officially launched the sensitization campaign and emphasized the importance of the Campaign as a process aimed at educating citizens about the APRM as "Africa's Self-assessment for good governance and the need for citizens to participate, and be supportive of the APRM at continental, regional, sub-regional and national levels.
Meanwhile, other members of the delegation include: Messrs Emmanuel David, Chairman of the National Governing Council and Philajua Boima, Deputy Chief of Office Staff.