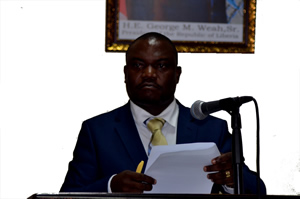 Monrovia, Liberia - The Government of Liberia's Mobile Money Payment System being rolled out to spending entities is an innovate scheme intended to ensure the effectiveness and efficiency in delivering the pay of government's workers.
This process has proven to be very effective in ensuring that over 4,000 teachers and health workers are paid in a timely fashion thus avoiding them the constraints of traveling very long distances to encash their paychecks as well as avoiding their prolonged absences from the classrooms and health centers.
As part of government's strategy to migrate from a cash-based payment system to an electronic payment system, the mobile money system which is a voluntary enrollment scheme was introduced as an alternative mode of payment service for all spending entities and Agencies.
A Mobile Money Unit within the Department of Fiscal Affairs was therefore created in achieving the objectives of ensuring increased effectiveness and efficiency in the salary payment process.
It is noteworthy to emphasize that one of the fundamental motives of this service is to improve Government's cost savings efforts and enhance value for money.
It is expected that when this service is fully adopted and implemented through voluntary enrollment of employees across spending entities, Government will save on cost to print checks for employees in the rural parts of the country, reduce spending on monthly allowances/ per diems for staff going in the counties, as well as reduce transportation cost which includes gasoline for vehicles, wear and tear of vehicles and reduce spending on accommodation associated with the current salary payment process.
Moreover, the Mobile Money Payment System will help civil servants have access to their money real time even beyond odd hours, purchase LEC tokens, shopping at various supermarkets, buy airtime, pay DSTV bills, transfer money to families and loved ones to pay school fees, etc.
Additionally, this service will only affect the 20% Liberian Dollars portion of civil servants salaries for those that are on special allowance after their voluntary enrollment.
For civil servants whose base salaries are with the Civil Service Agency, we are in partnership with the CSA to have it remitted via mobile money based on their approval.
Please note that this service is an alternative or optional mode of payment to Civil Servants and not compulsory. It is absolutely not mandatory.