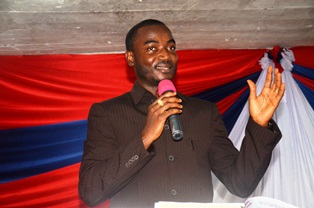 Monrovia, Liberia - Finance Minister Boima S. Kamara has cautioned the young people of Liberia against allowing themselves to be used by anyone or a group of politicians to engage in violent behaviors that will lead to the destruction of lives and properties during the electoral process.
He assured that the government is committed to holding free, fair and transparent elections. The Finance Boss made the statement on Saturday, August, 19, 2017 when he served as the Guest Speaker of the 8th Graduation Exercises of the Action Faith Institute in Duport Road, Paynesville City.
Minister Kamara intoned that the country needs a more conscious process of sustained transformation in which, according to him, the peace dividend gained over the past fourteen (14) years are maintained.
Speaking on the topic ''Access to Education, A Right for All Liberians'', the Finance Minister stressed that Pillar Three of the country's five year development plan, the Agenda for Transformation (AfT) , focused on human development with a "goal of improving the quality of life by investing in more accessible and higher quality education".
Minister Kamara also mentioned that with more than two-third of Liberia's population under the age of 25 years, the Government had few months ago initiated a 3-year action plan aimed at making significant improvements to the quality of education in Liberian schools. He said the plan seeks to ensure that at least 40% of all schools meet or exceed established standards by 2020.
The Finance Minister then used the occasion to remind the graduates that they have a role in demanding a smart high-quality learning environment. He also reminded them that it is imperative that everyone is afforded the opportunity to have access to affordable and quality education as well as for them to go to school and learn. "it is your right to have access to educational facilities to improve your capacity and develop those skills that are necessary to make your life pleasant." Said Minister Kamara
He further acquainted them of their rights to be provided the enabling environment that will afford them the platform where they can experience a peaceful and prosperous life. However, he cautioned them that they too have a role in this process by taking advantage of the available opportunities in order to develop their own capacities so as to become productive citizens.
Meanwhile, Minister Boima S. Kamara during his keynote address commended the Valedictorian of the 2016/2017 Class of the Action Faith Institute, Miss Kokah P. Henry for her outstanding academic performance. He also made specific commendation of the fact that most of the graduating students were females. He said the performance of Miss Kokah which runs parallel with another female, Marklyn W. Wingbah of Carver Mission who topped this year's Liberian Senior High School Certificate Examination not only demonstrates the commitment and actions of government to empower the girl child but also shows the determination and resilience of women and girls in Liberia particularly in academia and in various areas of work.