Details

Published on Tuesday, 01 August 2017 17:52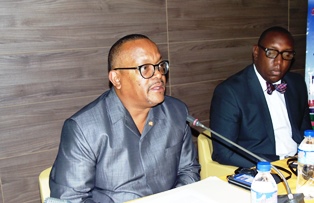 The Executive Governor of the Central Bank of Liberia (CBL), Mr. Milton A. Weeks, on Monday 31 July 2017, set the tone of the 26th meeting of the College of Supervisors of the West African Monetary Zone (CSWAMZ) by urging members of the College of Supervisors of West African Central Banks to think through what is likely to cause a banking/financial crisis in the West African monetary zone as well as the efforts required to address such crisis. He said: "The need for a zonal crisis prevention, management and resolution framework is more and more evident. Do we have the right mechanisms to address the potential risks associated with the increasing digitization of our financial systems?"
Mr. Weeks also stressed the need to provide an enabling environment that would be conducive for competition and innovation, while at the same time balancing risk management and internal control against overbearing regulations. This view, he said, is informed by lessons learnt by past failures/crises and the need to regularly assess existing practices and make future crises less damaging.
In delivering the keynote address during the 26th Statutory Meeting, the CBL Governor said: "In this new age of 'hi-tech' and financial technology, our supervisory approaches need to be scaled up and technologically powered". He however expressed happiness that most countries within the West African monetary zone already have electronic systems for the rendering of the returns of financial institutions but that there was still opportunities in using computer-assisted techniques and other tools to facilitate enhanced early warning systems.
The importance of aligning the supervision of financial institutions with a rapidly-developing financial system was also underscored by the CBL Governor during the keynote address. This, he said, was all the more important because of the countless number of transactions facilitated, hence the need for analytical intelligence to capture the key issues and risks before they emerge.
While praising the College of Supervisors of the West African Monetary Zone (CSWAMZ) for the annual publication of the Zonal Financial Stability Report and the critical role it plays in promoting financial stability in West Africa, he stressed the importance of contemplating the most appropriate institutional design for the College to meet the growing needs of the Monetary Zone.
In addressing some of the supervisory and regulatory challenges faced by West African Central Banks, Governor Weeks shared with CSWAMZ measures the CBL is taking to mitigate some of those challenges. The measures include financial sector reform and financial inclusion as contained in the Financial Sector Development Implementation Plan (FSDIP) as well as in the CBL's 2017-2019 Strategic Plan.

Other speakers during the occasion included the outgoing chairman of the CSWAMZ and Director of Banking Supervision of the Bank of Sierra Leone, Mrs. Hanifa Addai, the incoming chairman of the college, the CBL's Director of Regulation & Supervision, Mr. Mussah A. Kamara (Deputy Director, Mr. Fonsia Donzo served as proxy) and the Director for Financial Sector Management of WAMI. The officials spoke of progress and challenges the College faces and the need to continue the collaboration among member countries to improve the capacity of central bank supervision.
The College of Supervisors of WAMZ meet during the WAMZ statutory meetings on a bi-annual basis. The meeting is convened by the West African Monetary Institute. The main objective of the College of Supervisors of the West African Monetary Zone is to strengthen the capacity of central bank supervisors, share information on developments in the banking system and assess the risks to financial stability in member countries. Member states of the West African Monetary Zone are Nigeria, Ghana, Guinea, Sierra Leone, Liberia, and Gambia.